The Music Road Convention Center Pigeon Forge TN offers over 14,000 square feet of meeting space with various size configurations to make the perfect size for your next large meeting or gathering. An ideal location for planning a Wedding or Corporate event with ample space for large events as well as having plenty of rooms at the Music Road Hotel and the Music Road Inn to accommodate your guests for an overnight stay if needed. The sales team is eager to help smoothly make any occasion run and will help to make sure you are prepared for any circumstances.
Music Road Convention Center Catering
Whatever you need in Catering, you will find at the Music Road Convention Center in Pigeon Forge. From Brunch to Luncheons even options for a Family-style dinner, it doesn't matter what time of day you wish to hold your next event, the experienced staff at the Music Road Convention Center Catering is set to exceed your expectations.
Big rooms need a Big Voice
Having the right Audio and Visual equipment makes any large event easier. If you have your own, it is as simple as unloading at the dock and rolling your equipment in. If not, almost anything you could ask for is available from Microphones and Projectors to Podiums and Laser Pointers. When talking to one of the sales staff at the Music Road Convention Center, they will help you determine what you will need to make your event go perfectly.
Layout of the Music Road Convention Center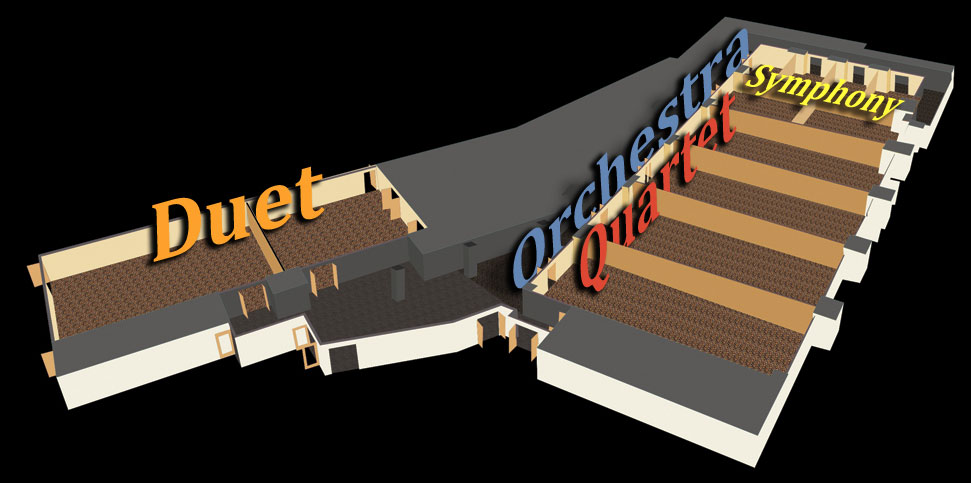 There are two substantial sections to the Music Road Convention Center, the largest being the "Orchestra" and the smaller the "Duet." The Orchestra room full size is "63ft x 175ft" making a total of 11,025 square feet and capable of holding up to 1,500 guests in a Theater style arrangement (of course this changes depending on the layout of the room). The "Orchestra" room can be sectioned off in 5 main sections, each having about 1,890 square feet. The remaining space, the "Symphony Ballroom" can be broken up into much smaller meeting areas to accommodate a much more modest gathering if needed.
The "Duet Ballroom" is 3,382 square feet if you book the entire area. This space can also be split into two sections to make it easier and more affordable if only a portion of this space is needed. As you can see, there are no limits to the layout and space to fit whatever event you might have at the Music Road Convention Center Pigeon Forge Tn.
Take a look at the room design and sizes to see which area is the best fit for your next experience.
RESERVATIONS
Music Road Hotel