It might not be the biggest thing you do in Pigeon Forge Tn when you visit but staying at one of the Hotels near WonderWorks Pigeon Forge keeps you close to the fun and entertainment it has to offer. If you have not been to the Pigeon Forge Wonderworks attraction, you definitely cannot miss it as you drive by. It is almost like it has been lifted up by a huge Tornado and tossed upside-down on its roof. It is safe to enter though and enjoy the experiences it has to offer like a 4 story Ropes Course or the Adventures of Space. You will find over 100 interactive exhibits to experience as you walk through this wonder of science and entertainment.
Quick Jump to Hotels near WonderWorks in Pigeon Forge
WonderWorks has a number of Hotels nearby
Fun at WonderWorks is a great experience but why not expand the excitement for your kids by booking a hotel with something more than just a normal indoor or outdoor swimming pool. Amp up you stay with accommodations at one of the Pigeon Forge Hotels with Indoor Pools and Slides or really go all in and stay at the Sevierville Hotels with a Water Park. Since all of the Hotels in Pigeon Forge are really close together, we will look at the ones closest to the WaterWorks Attraction in Pigeon Forge. Any of the Hotels you stay at in the area are within a few miles of this fun attraction though.
Special Note:
The WonderWorks Attraction has fun for the entire family. It is a mix of science and fun so it can be a great learning tool as well.
---
The Music Road Hotel

0.9 miles from WonderWorks
Family Suite
2 Bedroom Suite
Private Balcony
Outdoor Water Park
Water Slide
Kids Splash Park
Lazy River
The Music Road Resort is in beats out the Oak Tree Lodge by 0.1 miles as being the closest Hotel on our List of Hotels with Water Fun Features. The the Music Road Hotel and the Music Road Inn are both 0.9 miles from this attraction. There are plenty of fun things to do at the resort with an Outdoor Water Park with Water Slide and Lazy River. The Fun Time Trolley has a stop by the roadside, right outside of your front door.
---
Oak Tree Lodge

1.0 mile from WonderWorks
Clean, Comfortable Rooms
Fireplace
In-Room Jacuzzi
1 Outdoor Pool
Water Slide
Kids Splash Park
Indoor, Heated Pool
Located directly across from the Tanger Outlets in Pigeon Forge the Oak Tree Lodge has a clean place to stay and has overall, very good TripAdvisor Reviews. The Indoor Pool is Heated for year round comfort while the Outdoor Pool has a Water Slide.
---
The Spirit of the Smokies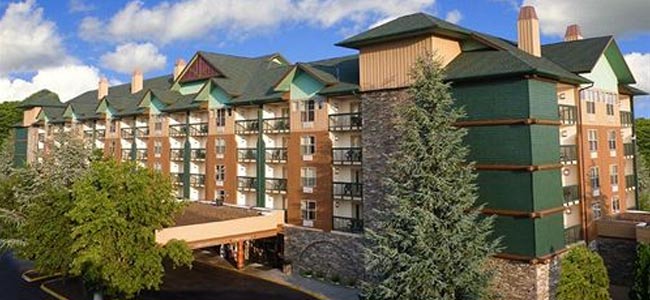 0.9 miles from Wonderworks
In-room Jacuzzi
Rooms can be combined to make larger Suites
Kitchen in some units
Indoor Pool
Indoor Water Slide
Outdoor Pool
All year long you can enjoy the Indoor Pool that is heated and a twisting Water Slide at the Spirit of the Smokies in Pigeon Forge. The location of this hotel puts it as close to the WonderWorks exhibit as the Music Road Hotel.
Map showing location of Hotels near WonderWorks in Pigeon Forge
Additional Hotels close to WonderWorks Sevierville
---