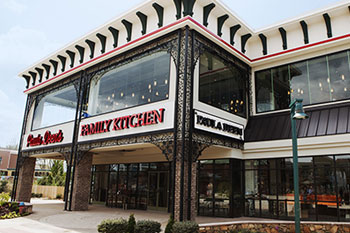 Paula Deen's Family Kitchen
131 The Island Drive, Suite 8101
Pigeon Forge, Tn 37863
Direct Phone Number: 1-865-366-1510

Times of Operation
Sunday – Thursday
7:30 AM to 10 PM
Friday – Saturday
7:30 AM to 11 PM
* Hours are subject to change without notice
Cost to Dine
[GoogAd 336×280]
The Island in Pigeon Forge Paula Deen Restaurant
You can expect a meal unlike others at The Island when you visit Paula Deen's Family Kitchen in Pigeon Forge, Tn. Located in the heart of The Island, you get a scenic view of the fountains from this 300 plus seating Restaurant open for Breakfast, Lunch and Dinner. There is not a bad seat in the house with all of the tables and chairs set in a formation rising as you move away from the windows. This allows each group to enjoy the show while getting a good meal.
Truly, Family Style Dining
You still order off of a menu but it is not served the way you might expect. Each table orders the Meat and Sides of their choice and servers bring out large portions that you pass around the table, just like if you were eating a meal at home. When one of the meats or sides have been finished, the server brings out another portion to keep the meal going.
How much does it cost to eat at the Paula Deen Restaurant in Pigeon Forge?
The pricing would go along with the idea that this is a buffet style meal. There is a single price (each of the prices are listed above) for Adults and Kids, ages 5 to 10, and it costs the same no matter how much you eat. If you enjoy eating a large buffet's and can really put down the food, this is probably a great option. If you normally eat a small amount or enjoy eating salad, the Paula Deen Restaurant at The Island might not be your best option.
Visit The Store while you wait
From Jams and Jellies to clothing and Aprons, the Paula Deen store is a big part of the restaurant experience. You might think that they make you wait on purpose to have time to look through the kitchenware items in the store but I think they are just busy. It will give you something to do though, especially if all of the seating is taken outside of the Paula Deen Restaurant in Pigeon Forge, Tn.