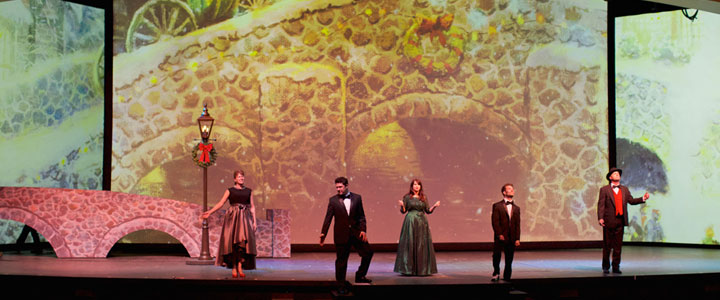 Thomas Kinkade's Christmas of Lights Address
Smokey Mountain Palace
179 Collier Drive
Sevierville, Tn 37863
Direct Phone Number: 1-800-926-6077

Times of Operation
Mon – Sat
7pm Shows
Tue – Sat
2pm Shows
* Hours are subject to change without notice
[GoogAd 336×280]
What is Thomas Kinkade Christmas of Lights?
You might not know who Thomas Kinkade is but I am sure you have seen some of his paintings before. These magnificent works are shown all over the world and many are incredible paintings of Old Fashioned Winter scenes, many of which are used to represent a more simple life around the Christmas season. You might not see an actual painting from Kinkade but you have seen his work across other merchandise like Calendars, Puzzles and Greeting cards. Most recently, it has been brought to life, in a unique and beautiful display in Pigeon Forge at the Smoky Mountain Palace Theatre, with the performance of the Thomas Kinkade Christmas of Lights.
Singing, Dancing, a Musical Christmas Event?
Uplifting, is a great one word description of this show and there are many times you will have chills run up and down your spine from the powerful message behind the music. The Christmas of Lights show is truly "a Live Music Celebration" of the spirit of Christmas. A cast of live performers take the stage to tell a story with massive high definition screens as a backdrop and stunning use of Thomas Kinkade's artwork and animation make this show stand out from any other you have ever seen. Through the performance, you will also learn a little about the man behind the artwork.
Meeting with the Cast
Many of the guests who see the Thomas Kinkade Christmas of Lights, love the fact that you get to meet and talk to the performers at the end of the show. If you have kids, this is an extra special treat for them. When you leave, you will have an extra boost of the Christmas spirit and you will be waiting for the next time you get to see this performance again.
Parking
Since this venue is located in the Smoky Mountain Palace, you will find plenty of parking on all sides of the building. You might want to show up a little early to the show to get a closer parking spot.