No matter what time of year, the Holiday Inn Express Gatlinburg Downtown Pool and Indoor Water Park are up and running, ready for your family to jump in and have some great water fun together. While the Water Park is not huge, it adds a level of fun for the younger kids with a couple of Indoor Water Slides and places to climb and get water sprinkled on them. Watch out for the large, dumping water bucket as it will soak everyone around it. On top of having the Water Park, enjoy the large indoor heated pool, perfect for the adults and older kids.
---
Indoor Pool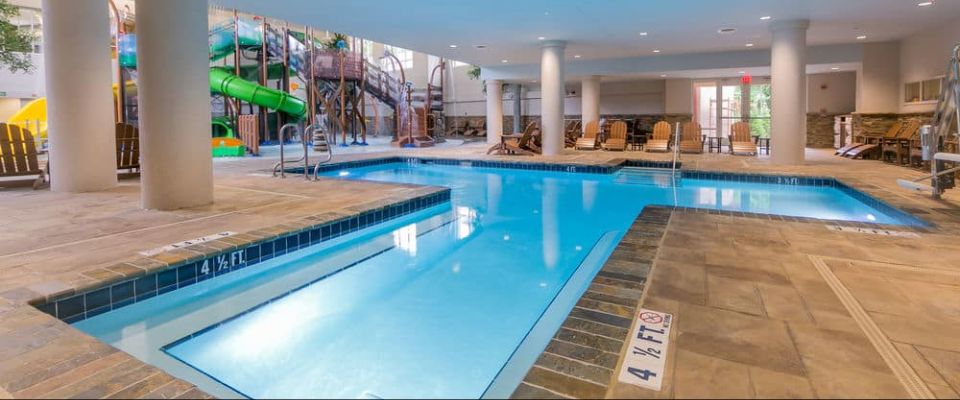 The Indoor Heated Pool is in the shape of a "T" with depths from 3 ft to 4.5 feet. It does not have zero-entry access but does have a ledge for easy seating around the pool edges. Plenty of Adirondack chairs are located around the pool and water park for your seating convenience.
Indoor Pool & Water Park
Pool and Water Park Information:
Pool Hours: Daily 9am – Midnight
Water Park Hours: Daily 9am – Midnight
Water Slides: 2 Kids Water Slides
Lazy River:

no Lazy River

Kids Splash Park: Indoor Kiddie Splash Park
Towels: Located at the Indoor Pool
Notice: Pool hours can change without notice. Always check the daily schedule at the hotel for the updated hours to the pools and any events.
Who: The Indoor Pool and Water Park is reserved for Guests at the Holiday Inn Express Downtown Gatlinburg
Lifeguards: Lifeguards are

not

shown.
---
Water Slides
At the Indoor Water Park your kids will have a blast on the 3 Indoor Water Slides. One of the slides is enclosed while the other 2 are an open flume type.
---
Zero-Entry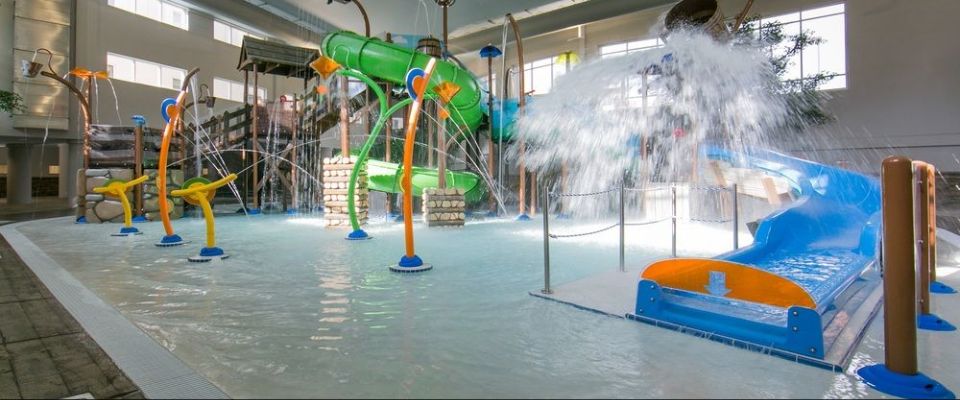 The entire Indoor Water Park is placed in Shallow Water with Zero-Entry points 360 degrees around making it perfect for even small children to have fun in the water and get sprinkled all around.
---
Kids Splash Park
This large Indoor Water Park is great for kids to stay wet with many sprinklers around and even a large dumping water bucket. Watch out, you will get wet when this dumps water on all walking below.
---
Hot Tubs
Surprisingly, there is not a Hot Tub at the Holiday Inn Express in Gatlinburg Downtown.
RESERVATIONS
Holiday Inn Express Gatlinburg Downtown