Visit the Park Tower Inn off of the main Parkway road that travels right down the center of the main Pigeon Forge Strip. You will not find a large amount of amenities but the Park Tower Inn Pigeon Forge Tn Pool is nice at all times of year offering an Indoor and Outdoor pool option.
Water Fun Information for the Park Tower Inn:
Pool Hours: Daily – Time not listed
Outdoor Pool: Small Outdoor Pool open seasonally
Indoor Pool: Indoor Heated Pool open all year long
Large Water Slides: There is

not an indoor or outdoor water slide.

Lazy River: There is an indoor lazy river and tubes are provided for additional fun
Zero-entry: There is

not a zero entry access.

Hot Tub: You will find a hot tub at the indoor pool and another at the outdoor pool
Towels: Towels are provided at the pool area
Notice: Pool hours can change without notice. Always check the daily schedule at the hotel for the updated hours to the pools and any events.
Who: The Pool are for all Guests at the Park Tower Inn Pigeon Forge
Lifeguards: Lifeguards not available at either of the pool locations
---
Indoor Lazy River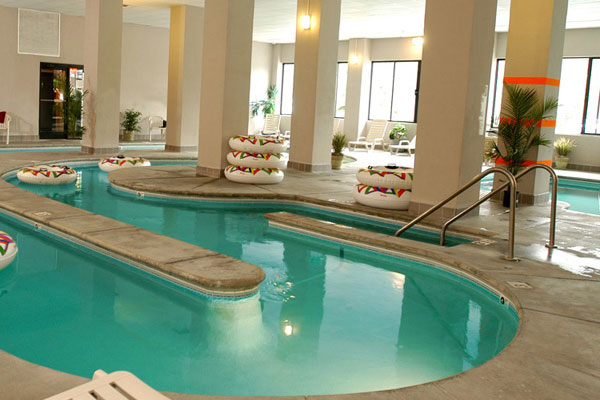 You will not find a Water Slide at the Park Tower Inn at either of the pools. For some, having a Lazy River is a much better option because of the relaxation you get from gently floating around and around. This is also a great option for everyone in the family to jump in and enjoy together.
Indoor / Outdoor Hot Tubs
Rest and relaxation! That is what we normally think about when we get away as adults. What better way to relax than to settle into a nice Hot Tub. Luckily, there are a couple of Hot Tubs located at the Park Tower Inn. One of them is by the outside pool and the other is in the corner of the room where the Indoor pool is. Either one will give you the relaxation you are looking for.
RESERVATIONS
Park Tower Inn