Are you Hungry?
You might show up hungry but there is no excuse to leave that way. Take in one of many at The Island Pigeon Forge Restaurants in Tn. Whether you are looking for a hearty meal with more fix in's than you could ever eat to a pizza and soft drink, you will find it all here at one of the Restaurants at The Island in Pigeon Forge.
What Popular Restaurants are at The Island?
If you are looking for a full meal and would like to sit down and dine, you have a few different options. Many of the people who visit Pigeon Forge are looking for that "down home" experience and when they see that Paula Deen's Family Kitchen is located at The Island, they immediately think of good food and great hospitality. Try not to get wasted away again in Mararitaville Restaurant at The Island. Okay, so maybe not the best play on words but if you visit this restaurant expect to get some decent food portions and have a good time. There are others you might want to try as well from Pizza at the Mellow Mushroom to a very different atmosphere at Dick's Last Resort. Come back for a visit more than once to try a couple different Dining Experiences at The Island Restaurants in Pigeon Forge. It is impossible to do them all in a single visit.
Food Shacks at The Island Dining
There are many other options available at The Island Pigeon Forge if you are just wanting to walk around and not take in a sit down meal. One of the best rated food vendors around is Poynor's Pommes Frites. Everyone raves about the European German style Brats and the Fries, oh yes, the fries are some of the best you can find. Breakfast is a great option at Cinnabon with the most amazing Cinnamon Rolls around. They are worth getting at least once in the course of your visit.
Sweet Tooth, No Problem at The Island in Pigeon Forge Restaurants
We already mentioned Cinnabon and they fit nicely in this category as well but what about the kids, young and old? Fresh Creations of amazing pastry and ice cream treats are easily found at The Sweet Shoppe of the South. Some of the Best Fudge in Pigeon Forge and Gatlinburg can be sampled and then purchased at The Fudgery.
The List just goes on and on. No matter what you are looking for, full dining, drinks or something sweet, it is all here at Pigeon Forge The Island Restaurants.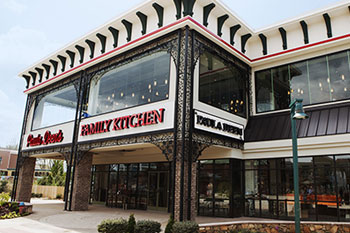 Estimate of Rating Levels
Paula Deen's Family Kitchen
Home Cooking, a good time and a warm hearty welcome is what you will expect at Paula Deen's Family Kitchen. Know what to expect going in and you will be much better prepared. You are charged a single fee for each person at the table and drinks are not included in this price. Selections are made from a list of items and then continually brought out to your table, like you would eat a family dinner at home. There is no reason for you to go home hungry if you are eating at this family kitchen.
Dining Options: Breakfast, Lunch and Dinner
Table Service
Like a Buffet where the food comes to you
---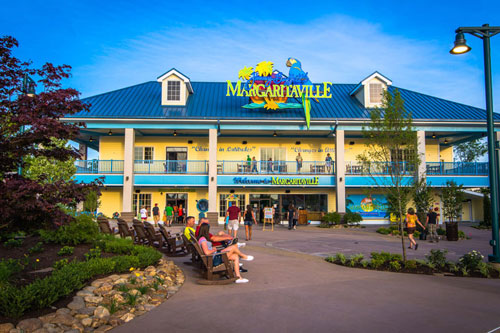 Estimate of Rating Levels
Margaritaville
It doesn't matter if you are a die-hard Jimmy Buffet fan or not, dining at Margaritaville in any location is always a great experience. From the Cheesburgers to the Nachos piled high, you can always get your fill while listening to great music at this Restaurant. The bar is ready to serve any adult beverage or frozen drink while a Volcano erupts on queue in the background to signify the start of a new hour of fun. A true Key West beach feel is what you will find at Margaritaville in Pigeon Forge.
Dining Options: Lunch and Dinner
Table Service
Order from a Large Variety Menu
---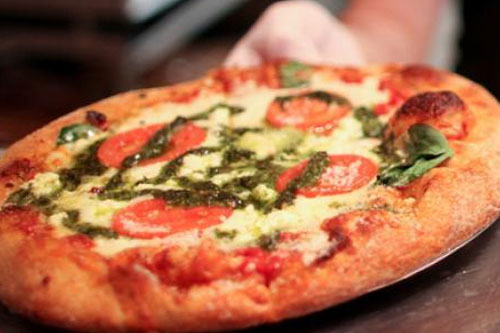 Estimate of Rating Levels
Mellow Mushroom
Great Pizza and Great Beer has been the Staple in this Pizza establishment since 1974. That is what you will find at the Mellow Mushroom in Pigeon Forge The Island as well but, it is a little different. If you have been to a Mellow Mushroom elsewhere, you might be thrown off by the way you order. Instead of being seated and ordering from a table, you go through a line to order and then it is brought to you. Same great pizza just a different way of ordering. Many guests like the fact that it is beside Dudes Daiquiris where they can sit, eat a Mellow Mushroom Pizza and order a frozen drink to go with it.
Dining Options: Lunch and Dinner
Walk up Order
Pizza, Calzones, Salad and more
---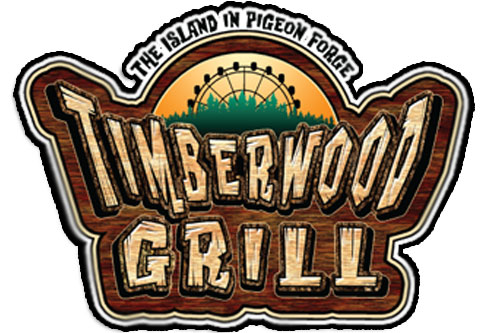 Estimate of Rating Levels
Timberwood Grill
The Timberwood Grill is a crowd favorite in Pigeon Forge with Smoky Mountain grilled perfection on every plate. Serving just about any type of selection for Lunch and Dinner, get your favorite grilled hamburger, awesome fish tacos or a perfectly seasoned steak all at the same place. If you are looking for a place with enough choices and selectiong for everyone in the family, consider this dining establishment. When you are looking for that perfect mountain dining at The Island. Oh and they have great happy hour drinks too.
Dining Options: Lunch and Dinner
Table Service
Grilled Variety and other options as well
---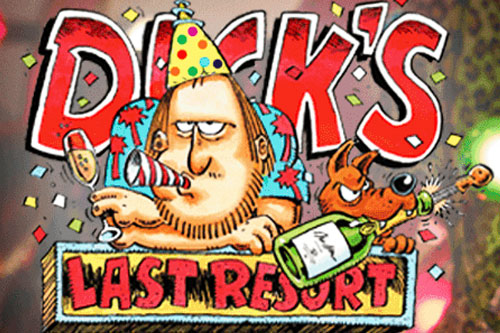 Estimate of Rating Levels
Dick's Last Resort
If you look at nothing else but the ratings, you might get scared away by Dick's Last Resort Restaurant but you have to understand the idea behind the restaurant. It is designed to be a restaurant like no other with funny and yet sarcastic wait staff. This can be fun for many if it is taken in the right spirit but some of the reviews show that it can be taken too far. Yet, the food is good and there are plenty who love it since it is such a unique experience. Even though it is designed to be a family restaurant, you might want to leave the smaller kids home if you visit. It could be too much for them.
Dining Options: Lunch and Dinner
Table Service
Pork BBQ, Salad, sandwhiches, Ribs, Steak and many more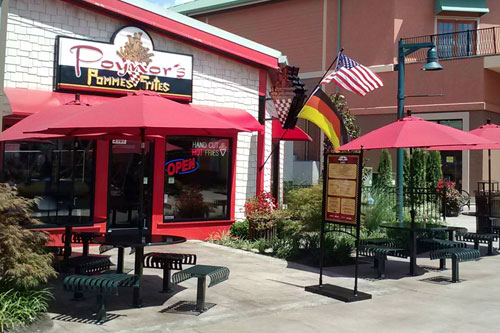 Poynor's Pommes Frites
Think German, where you can find your food at a corner shop along your route, stop in and have something hearty and bold. If you are in the mood for a German style Brats with hot, perfectly flavored Frites, this is the place to stop. Great Fires, piled high and a fantastic experience every time.
Dining Options: [Lunch and Dinner
Walk up and order
Inexpensive menu and Great Food
---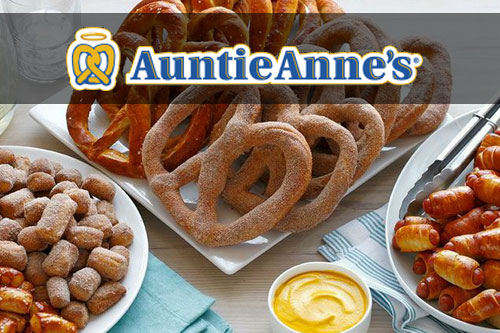 Auntie Annes
You might think you know what a Pretzel is but after you have one at Auntie Anne's, you might see them a little differently. Not only just a snack, it can almost be a meal with so many different flavors and types of Pretzel. Have a normal pretzel with salt or get a desert pretzel with Cinnamon Sugar or Sweet Almond Honey. They even have options that make it more of a meal adding in a pretzel dog. Try a couple of them and you will agree that this is a great place to grab a quick snack.
Dining Options: Lunch and Dinner
More of a Snack
Many different Pretzel Types and even Bite sized options
Cinnabon – Ooey Gooey Cinnamon Rolls
The Sweet Shoppe of the South
The Fudgery
Island Yogurt
Sweet!
Yee Haw Snack Shack – Frozen Snowballs, Hot Dogs and more…
The Island Creamery – Ice Cream and Smoothies
Margaritaville Coffee
Bill's Lemonade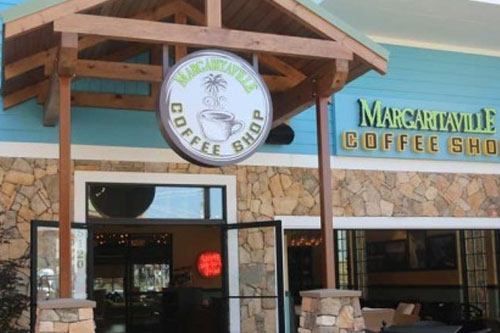 Margaritaville Coffee
Any time is a good time for Coffee and a great place to pick up yours is at the Margaritaville Coffee Shop. If you are staying in the Margaritaville Hotel, it is a very convenient location but if you are not and you are just looking around The Island complex, this gives you a great excuse to look around this fantastic 4 Star hotel.
Open from 7am to 10pm
Indoor and Outdoor Seating
Key West laid back feel
---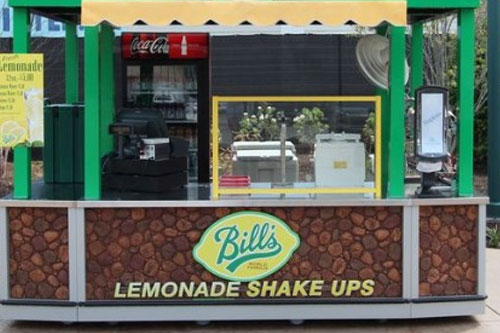 Bill's Lemonade
A tasty treat for all as you are passing by the shops at the Island. The kids will love the drink they get from Bill's Lemonade.
---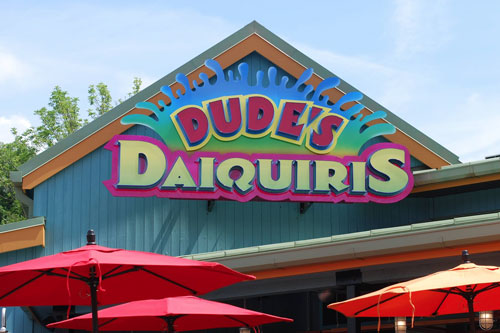 Dudes Daiquiris
Grab your favorite frozen drink over at Dudes Daiquiris right beside the Mellow Mushroom. Enjoy some people watching while drinking down your Craft Brew or Frozen Daiquiri Mix with outdoor seating on a colorful patio. At times you will find good, live music to enjoy. This is a great place to kick back and relax with friends.
Open from 11am to Midnight
Walk up and Order
Caribbean style Island feel
Dine at The Island in Pigeon Forge Restaurants
From Family friendly to a coloring outside of the lines, there are so many different places to visit at The Island Pigeon Forge Restaurants. Take time to check out the different locations and find one to be a perfect match for your trip.