Staying at a 4 star resort normally provides additional amenities you will not find at a normal hotel. The Dollywood DreamMore Resort Dining would be one of those extra perks. Having the option of dining at the DreamMore Resort can save you time to do other things you would like to get done on your trip. This is especially nice in the mornings before you start your day. Guests at the DreamMore Resort have their choice between 2 very different dining Experiences, the Song & Hearth: A Southern Eatery or The Pantry. After you take a look at the DreamMore Resort Restaurant Menu's, you will see why you might never venture off the property to get something good to eat.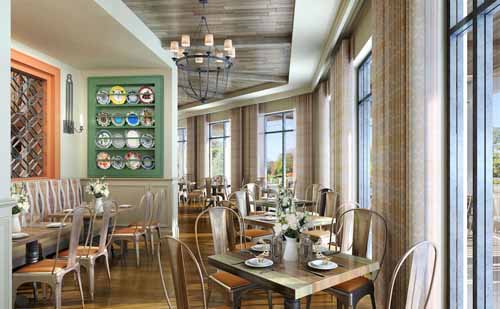 The Song & Hearth
The Song & Hearth Restaurant offers a unique Southern Style dining experience inside with large picture windows or outside on the large deck. You will find yourself in a cozy setting with meals prepared with a local flare and taste. The Song & Hearth is open for Breakfast, Lunch and Dinner. You will feel at home when being served some of the best cuisine in the Smoky Mountains.
Hours of Operation for the Song & Hearth Restaurant
Breakfast:
7am – 11am
Lunch:
11am – 2pm
Dinner:
5pm – 10pm
DreamMore Resort Restaurant Menu for the Song & Hearth
2016 Lunch Menu
2016 Dinner Menu
2016 Dessert Menu
Take a look at each of the amazing Dollywood Resort Menu's and see the great selection of down home cooked meals to select from.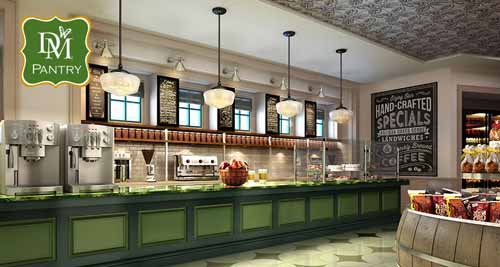 The DreamMore Pantry
Not enough time for a full sit down meal? Do you need to just grab something and go? Stop by the DM Pantry to get your favorite sandwich or beverage and take it with you if you would like.
Hours of Operation for The Pantry
Sunday – Thursday:
7am – 10am
Friday – Saturday:
7am – 11pm
Please note the information and fees provided can change without notice, however, was accurate when published. To confirm all details you will need to check directly with the properties in question before completing your vacation planning.
Of course, there are plenty of places to dine around the Pigeon Forge and Gatlinburg location but having the convenience of Dollywood DreamMore Resort Dining without leaving the property is definitely a plus.
RESERVATIONS
Dollywood DreamMore Resort