It is so much fun to visit the Wild Bear Falls Gatlinburg Tn Indoor Water Park when staying near Pigeon Forge. Being inside, it really doesn't matter what the weather is like when you visit. Although Wild Bear Falls is part of the Westgate Smoky Mountain Resort, the Westgate Gatlinburg Water Park is open to the Public. This is great for anyone in the general public looking for something fun to do on days when the weather is not cooperating, but if you are staying at the Resort, you might feel a little bit cheated. When you book your stay at most resorts, normally the amenities, Water Parks included, are for the Guests paying to stay at the resort. The Westgate Smoky Mountain Resort wants everyone in the Pigeon Forge and Gatlinburg area to have a nice water splashing time regardless of being a guest at their property or not.
Lots of Indoor Splashing fun!
The Wild Bear Falls Gatlinburg Tn Indoor Water Park is very large, occupying 60,000 square feet of space with fun Water Features for the entire family. If you are looking for a comparison in size to something you already know, an NFL football field is 57,600 feet if you include the 2 in-zones. That is a lot of space to walk around and enjoy for your visit.
How many attractions?
There is plenty of action to be had no matter how old you are. The Little Pigeon River is a perfect place for the youngest kids and toddlers to hang out. This kids splash area is surrounded by very shallow water and is a favorite for little ones. Kids also have a great time at the Ramsey Cascades where a large Tree House hangs over a large section of the park. The smaller water slide is a great option for those who are not quite ready for the adult rides and the areas to climb, play and soak everyone with water cannons are almost endless. The whole family will enjoy Cades Cove, which is a long Lazy River. There are also Large Water Slides for those who want something a little more thrilling. Take a look below at all of the fun available at this Indoor Water Park.
Hot Tubs?
There are 2 very large Hot Tubs at the Wild Bear Falls Indoor Water Park Gatlinburg. The Moonshine Hollow is an Indoor / Outdoor experience and the Grotto Falls is Indoor only. These areas are off limits to the little ones due to the water temperature. So adults, have fun and enjoy the relaxation you will get from these bubbling holes.
At a Glance
Big and Small Water Slides
There are 2 very large Water Slides for the adults and older kids but the little ones have some options as well. Take a look at the Water Slides available at the Wild Bear Falls.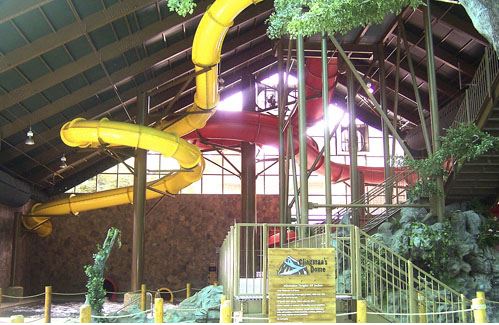 Height Requirement: 48″ Minimum

Weight Requirement: Not Listed
Clingman's Dome
The Clingman's Dome Water Slide is the long, open Red tube slide that is at the top of the giant tower. It allows for 1 to 2 riders per tube and takes you out of the building for a moment to make the final encloses enclosed turn before making your way to the splash down area.
1 or 2 riders per Tube
350′ long open flume except for the part that takes you outside of the building
You will want to ride this one many times
Height Requirement: 48″ Minimum

Weight Requirement: Not Listed
Laurel Falls
A large enclosed, yellow, water slide that sends riders zipping along a quick drop and then into a full 360° turn before being sent through a section of tube that leaves the building and then dumps you in to the Splash zone inside.
1 Guest at a time feet first
300′ Long Enclosed Water Slide
360° turn
Quick drop at the beginning
Body Slide
Kiddie Indoor Water Slides
See the Kids Splash Park Tab for full information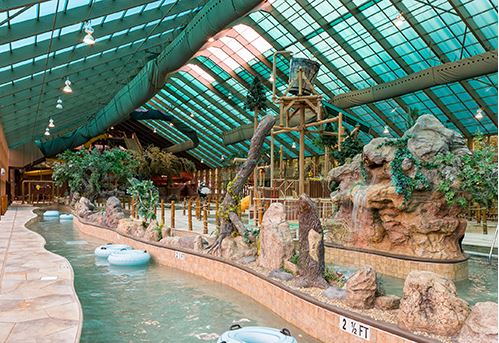 Height Requirement: None Listed

Weight Requirement: None Listed
Cades Cove
This is a ride that the whole family can get in on. The Indoor Lazy River is a full 900 feet in length and the water depth is a constant 3′ 6″ through the entire ride. There are a couple of entry and exit points along the way.
Single and Double Tubes available
900 Foot Long Lazy River
Swimming without Tubes is allowed
Washout Mountain
Depending on the size of your kids, some of the larger attractions might be overwhelming to them or they might just be too small to ride on them. No matter what the case, Gatlinburg's Wild Bear Falls has something for everyone.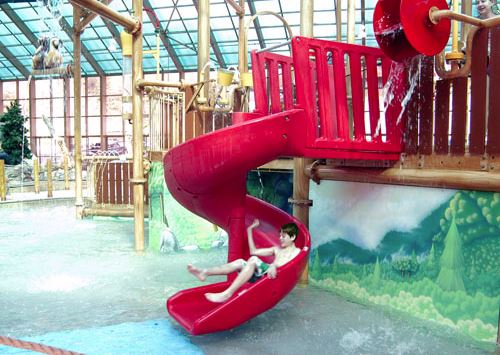 Height Requirement: None Listed

Weight Requirement: None Listed
Ramsey Cascades
This large Kids Water Splash Park is perfect for the little ones and up to Tweens. It has a 2 Water Slide as well as plenty of things to keep them wet. Created as a Tree House structure with plenty of places to climb and hide, the water fountains, cannons and sprayers keep going all day long. There is even a large 300 gallon tipping water bucket that dumps every few minutes. Listen for the screams, that is when the bucket is dumping on all of the little ones.
Large Water Tree House
2 Kids Water Slides
300 Gallon Water Bucket
Shallow Water
Water Spouts and Cannons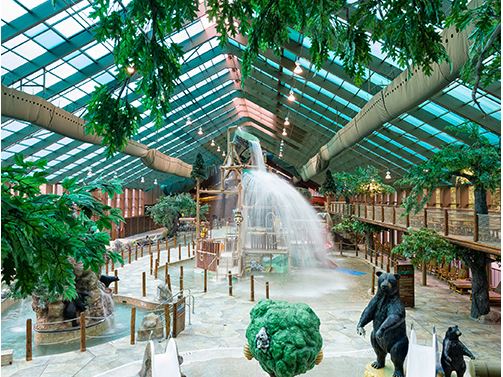 Height Requirement: None Listed

Weight Requirement: None Listed
Little Pigeon River
An area just for Toddlers with shallow water and Zero-Entry on all sides. There are also 2 small water slides on each side, one of them surrounded by Bears.
Perfect for Toddlers
2 Small Toddler Slides
Shallow Water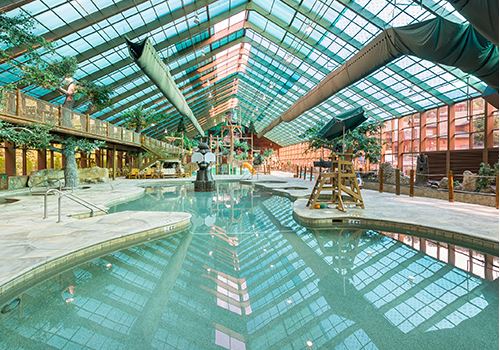 Height Requirement: None Listed

Weight Requirement: None Listed
The Swimming Hole
Many Indoor Water Parks don't even have a Pool but this one does. This very large pool has a lot of room to play and even has a water basketball goal setup.
3′ 6″ to 4′ 6″
Water Basketball
No Tubes allowed
Swimming Masks and Snorkels are not permitted
Frequently Asked Questions: Wild Bear Falls Gatlinburg Tn Indoor Water Park
Is the Wild Bear Falls Indoor Water Park Free?
This is actually a 2 part answer. Owners (Timeshare) get free wristbands for their entire party for the stay. Guests booking a stay online have to pay daily for entrance to the water park.
---
Is the pool handicap accessible?
Yes, there is a handicap lift at the indoor pool
RESERVATIONS
Westgate Smoky Mountain Resort