It is not difficult to find Kid Friendly Hotels in Gatlinburg since the entire area is well known for its Family friendly environment. In fact, many of the Hotels in Gatlinburg focus on the Family but only a few have the amenities like, Water Slides, Lazy River and Kid Splash Park that really stand out and make the trip, one to remember. Additional choices are available a few miles North at the Kid Friendly Hotels in Pigeon Forge if you don't find exactly what you are looking for in Gatlinburg.
Quick Jump to all Hotels in Gatlinburg Kid Friendly
Gatlinburg Hotels Kid Friendly
Although we mainly focus on Hotels with water features, you will find that many of these Hotels have so much more to offer. This area of Gatlinburg, surrounded by the Smoky Mountains, is a breath taking spot offering nature trails and hiking activities. Outdoor playgrounds are always a nice distraction for a time and some of the hotels even have kids activities.
---
Bearskin Lodge on the River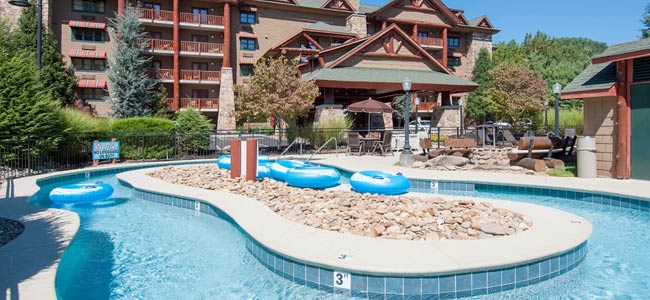 A small Outdoor Lazy River with Tubes is an inviting area for the Kids to play in and you will also find a small outdoor pool at the Bearskin Lodge. Depending on the time of year, these areas can get a little over crowded because of the size. This lodge offer access to hiking trails nearby and might be a good option if you are traveling as a family.
---
Park Vista – Doubletree
No matter what time of year, the Park Vista in Gatlinburg is an option that can always work for you. This is primarily because it has 2 indoor pools, split on different levels. It also has a couple of Water Slides. The heated pool makes this a fun adventure even when the weather is not the best outdoors.
---
Westgate Smoky Mountain Resort

If an Indoor Water Park is what you are looking for, staying at the Westgate Smoky Mountain Resort in Gatlinburg has something for everyone in the family, both kids and adults alike. The Wild Bear Falls Indoor Water Park has an indoor lazy river, water slides and even a kids splash park. This resort is also tucked away in the mountains in between Gatlinburg and Pigeon Forge. Having this added privacy and seclusion makes this a perfect getaway from all the fast paced fun on the strip of Gatlinburg. Ther Included in this park are 2 large, enclosed body water slides offering hours of enjoyment for the kids and parents alike. Having an on-resort miniature golf course and arcade doesn't hurt the kid friendly fact either.
Special Note:
For a true family friendly adventure, be sure to take the kids to Dollywood. This is a park designed around families and is not like others you have been to.
Additional Options:
Take a look at the other Kid Friendly Hotels near Gatlinburg.
List of Gatlinburg Hotels that are Kid Friendly