What do you do if the weather is not great and you have already been to the Wild Waterdome Indoor Waterpark? You take a trip over to the Adventure Forest Wilderness at the Smokies where you will find more to do than you can possibly do in a day. There is so much to do at this Adventure Park that will peak the interest of everyone, no matter what their age.
How big is Adventure Forest?
For an indoor area to accommodate all of the fun and attractions that the Wilderness at the Smokies Adventure Forest has in store for their guests, it cannot be a small area. In reality, you have about 25,000 square feet of space to enjoy the Indoor, dry fun like the Rock Climbing Wall or a Laser light obstacle course. Compare this to a Basketball Court that is about 5600 sq. feet and you could almost fit 5 of them in this building. One of the most popular attractions is the Tree Top Towers where you get to navigate a tough ropes course. This is where you can challenge other members in your family to see who can get through with the best time.
Golf anyone?
Technically it is mini-golf but everyone loves to play and with 2 different courses, it won't get old during your visit. Take in the fun glow in the dark course or a full 18 hole course that runs outside around the Lake Wilderness Water Park. You will want to play them both to get the full experience during your visit.
Pricing and Passes
You should know that there are additional fees to get into the Adventure Forest. As a guest, you are able to get Day Passes or Stay Passes. The difference is minimal so if you are planning to stay for a few days, you will probably want to get Stay Passes for the trip. The other important tip is that anyone is able to visit the Adventure Forest Park, not just guests. They will only allow non-guests if there is ample availability but this is very different from the Water Parks where only guests have access. Individual attractions can be purchased but it is much cheaper to get a pass in the long run.
If you get a day or stay pass, it does not include these attractions:
Cataloochee Creek Mini-Golf
Fury in the Forest Laser Tag
Mega Arcade
Each of these attractions must be purchased separately.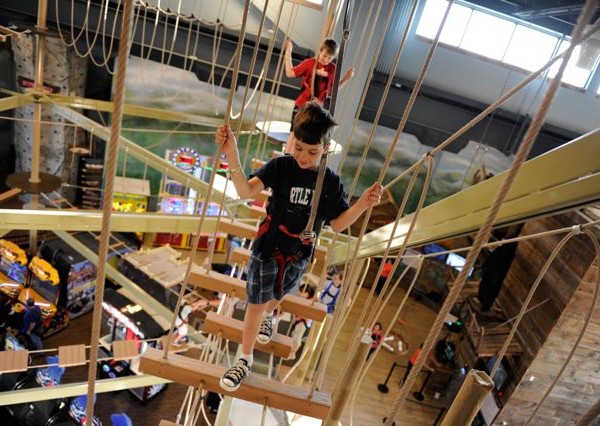 Height Requirement: 42″ Min and under 48″ accompanied by adult

Weight Requirement: Max of 300 lbs

Shoes: Closed Toe Shoes Required
Tree Top Towers
Get off the ground for a while and enjoy looking down on everyone below with the Tree Top Towers adventure. This is a Ropes course that is fun for the whole family. Suit up in a harness for safety and have the time of you life.
In-Air Lily Pads
Cargo Nets
Balance Beam
Rope Bridge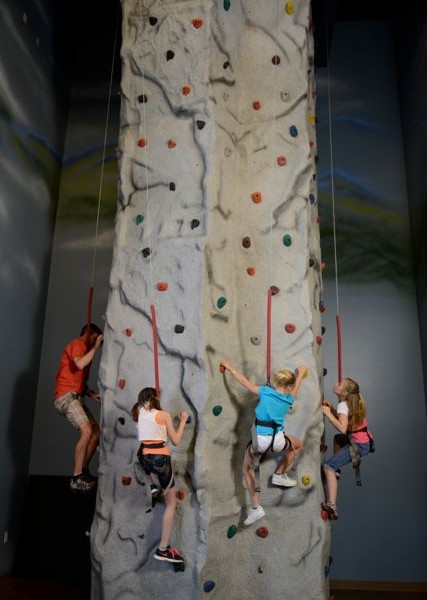 Height Requirement: 36″ Minimum

Weight Requirement: 40 lbs Min and 275 lbs Max
Mount Wild
Rock Climbing anyone? This indoor rock climbing wall is well suited for those who want a challenge. There are many different levels to choose from and even the option to challenge someone else to a climbing competition. Either way, it is something to try.
Safety Harness
Up to 4 can climb at a time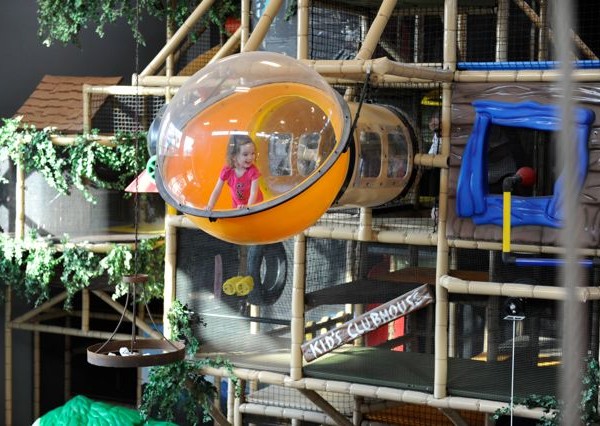 Height Requirement: 36″ Minimum

Weight Requirement: Not Listed
Cubs Climbing Den
If you have little ones with you, they might not be ready for some of the other adventures but that is okay, the Cubs Climbing Den is built just for them. This interactive clubhouse provides hours of fun.
Tube Slides
Climbing Ropes
Portholes
Observation Bubble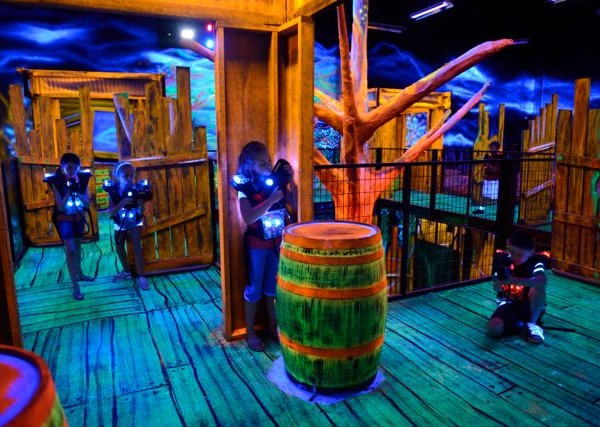 Height Requirement: 42″ Minimum

Weight Requirement: None Listed
Fury in the Forest
Grab you laser and suit up for an exciting time of laser tag with your family and friends. Plenty of places to lie in wait while you take out the passers by. Prove you are the best by not hiding but go after everyone else.
Laser Tag Game
Ramps and Barrels
Plenty of space to hide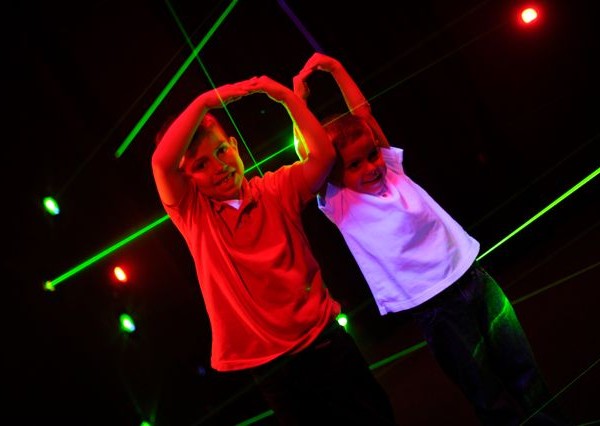 Height Requirement: None Listed

Weight Requirement: None Listed
Copperhead
An obstacle course with lasers? Yes, that is right, but it is a very safe experience. In a normal course you might be able to bump around to get through but you can't beat the lasers. Twist and turn your way through this course to show who is the most skilled.
Laser Obstacle Course
Beat the light to get to the end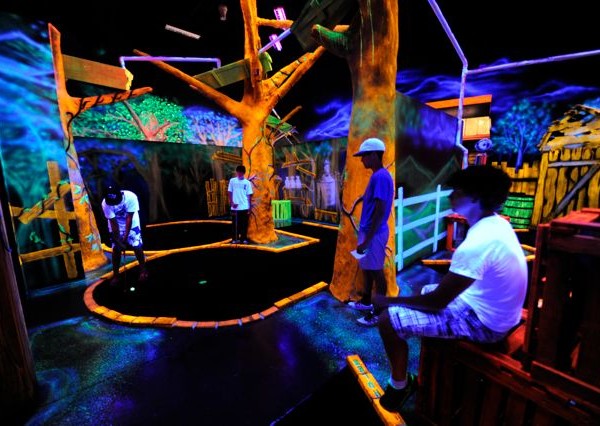 Height Requirement: Under 36″ Accompanied by adult

Weight Requirement: None Listed
Moonshine Run
While it is not completely dark, the black light shining on the illuminated surfaces will give you a different feel for playing mini-golf. This indoor 9 hole course will be a challenge anyone.
9 Indoor Mini-Golf Course
Lit with Black lights
Plenty of obstacles to putt around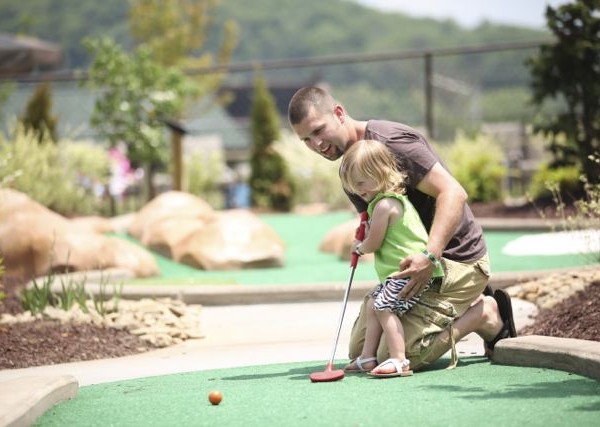 Height Requirement: Under 36″ Accompanied by adult

Weight Requirement: None Listed
Cataloochee Creek
Have you been inside long enough but still don't really want to get wet. The Cataloochee Creek Mini-Golf course is where you should go next. This 18 hole course is set around the Lake Wilderness Outdoor Waterpark.
18 Hole outdoor Mini-Golf Course
Near Lake Wilderness Waterpark
Family Fun for hours of enjoyment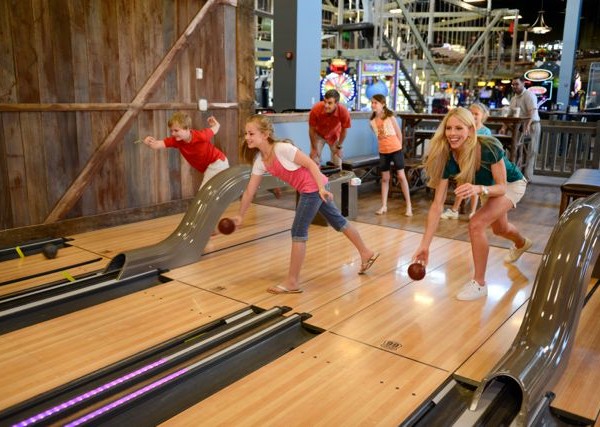 Height Requirement: Under 36″ Accompanied by adult

Weight Requirement: None Listed
Howlin' Hound Dog Alley
Take to the lanes and have a great time at Mini-Bowling. If you are not familiar with this type of bowling, it is just like normal bowling except the pins and balls are smaller. This makes it much easier on the kids and more fun than you could ever imagine.
4 Lanes of Mini-Bowling
Keep score to see who wins
Small bowling balls and pins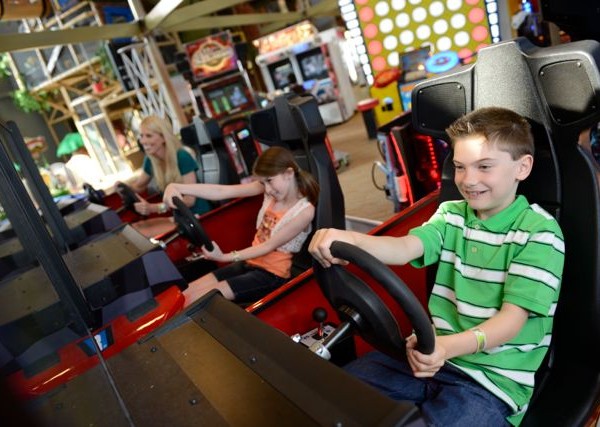 Height Requirement: None Listed

Weight Requirement: None Listed
Mega Arcade
You might not have ever seen an arcade of this size, at least not at a resort. There are over 100 different Games to keep the kids busy but you might actually find yourself playing some of them as well.
Over 100 Games
Win Tickets for Prizes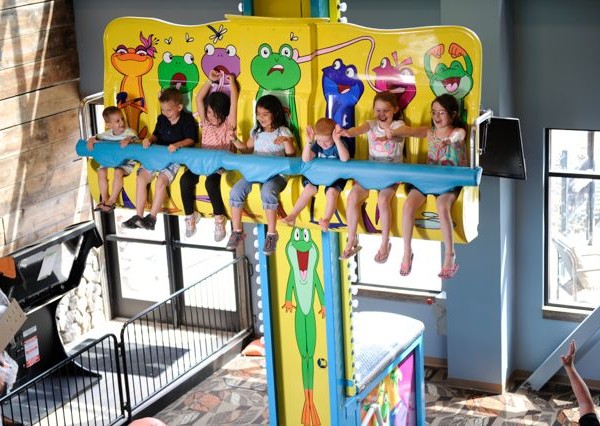 Height Requirement: 36″ Minimum

Weight Requirement: None Listed
Daredevils Drop
This is the only true ride in the Adventure Park but the little ones will want to ride again and again. Up they go to about 25 fee and here comes the drop. Squeals and Screams will be heard as the kids have a great time on this ride.
7 Little Guests at a time
Takes the riders up 25 feet and then descends quickly