It doesn't really matter what time of year or what the weather is like outside, when you visit the Wilderness at the Smokies Wild Waterdome Indoor Waterpark it is so large that you will feel as if you are outside. One reason that many people do not like an Indoor Water Park as much is the fact that they cannot soak in the rays of the sun. That is not the case at the Wild WaterDome Indoor Water Park as it has a specially designed roof to allow those sunrays through so you can get a tan, even inside.
Wild Waterdome is so Big!
When you look at the sheer size of the building, you realize that this place has to be a lot of fun and at 66,000 square feet, that is a large space to play in. Let's put this in perspective. A Football field, including the inzones, is 57,600 feet in size. That means that the Wild Waterdome Indoor Waterpark at Wilderness at the Smokies is larger than the entire playing field at a football game. Don't get lost when you visit, this place is really big!
Fun for everyone in the family
Let's face it, being at an Outdoor Water Park is great because it feels a little less restrictive but how many times have you wished that you could head inside for a while. The great thing about the Wilderness at the Smokies, is that they have both options for you. In actuality, they have 2 Outdoor Water Parks for you to enjoy when the weather is nice but during the cold months or if the weather is just not cooperating, having this massive Indoor Water Park is hard to beat. Let's take a look at what you will experience after walking in to this incredible space.
At a Glance
Indoor Pool:

Yes

Outdoor Pool:

No

Heated Pool:

Yes

Lazy River:

No

Water Slide:

Yes

Hot Tub:

Yes

Zero Entry:

Yes

Kiddie Area:

Yes

Wave Pool:

Yes
Slides for All sizes
What is really remarkable is the fact that you have all of this indoor space but some of the rides actually are enclosed themselves allowing them to protrude into the Outdoor space and bring you back in at the end of the ride. This not only expands the already huge size of the park but it also looks very cool from the outside. There are 3 large Water Slides at the Wild Waterdome Indoor Waterpark and 2 Small Slides in the Kids Area.
Large Indoor Water Slides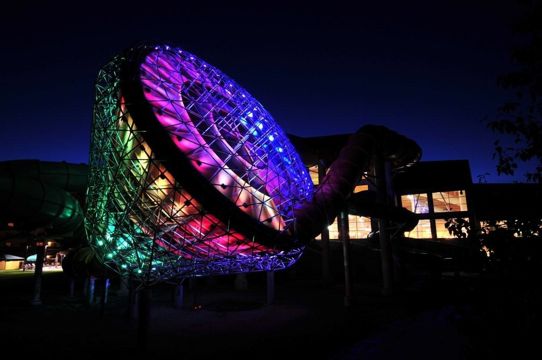 Height Requirement: 48″ Minimum

Weight Requirement: 700 lbs Max
Trail Twisters
This Water Slide looks like a slanted Tornado when you see it from the outside. It may seem really intimidating but it is a great Family ride. Take the plunge into the funnel where you will be sent sliding back and forth in this huge funnel until you get whisked away at the bottom in an enclosed tube dumping you out into the splash zone. This ride at night even gets more exciting because of all of the lighting that gets applied to it. It is fun for the entire family.
4 Guests per Tube
55 Foot Drop into the Funnel
Get Slung back and forth with flashing lights making the experience more intense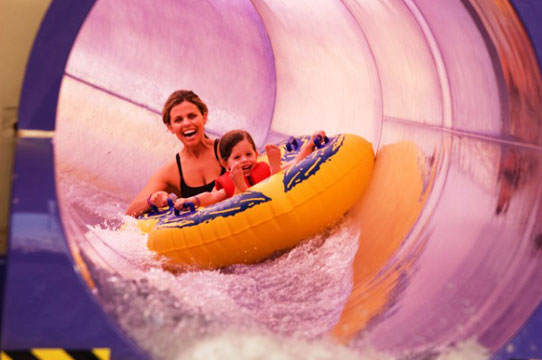 Height Requirement: 42″ w/Adult or 48″ alone

Weight Requirement: 250 lbs Max
Storm Chaser
The 2 Large Twisting Water Slides, the Trail Twisters, are unique in that they start indoors but after you begin your slippery ride, all of the twists and turns take you outside of the building. Each of the slides are very different. The purple slide has 2 tight 360° turns ending with an S-curve and the Yellow Slide has a more gentle 360° twist, both ending in their very own slpash zone.
1 or 2 Guests per Tube
Long Twisting completely enclosed Tube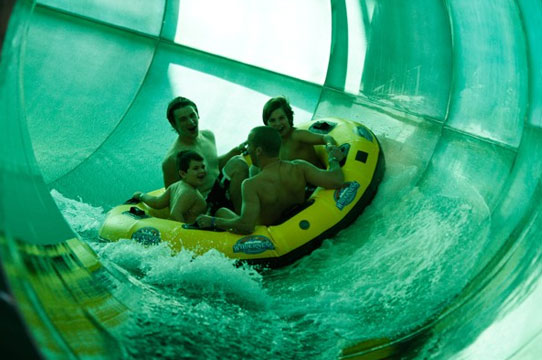 Height Requirement: 42″ w/Adult or 48″ alone

Weight Requirement: 800 lbs Max
Runaway Canyon
Runaway Canyon is a fun 4 person Water Slide for the whole family. This is not to say that it does not have its moments of pure excitement. You start at the top by piling everyone in this large tube, as you make your way along, the slide takes many twists and will bank you high along the edges at times. You will continue to get wet by the many tunnels and waterfalls and there is an exciting drop near the end.
4 Guests per Tube
60 Foot exhilerating Drop
Ride is 450 feet in length
Kiddie Indoor Water Slides
See the Kids Splash Park Tab for full information
Height Requirement: None Listed

Weight Requirement: None Listed
The Great Wave
The large Wave Pool at the Wild Water Dome Indoor Water Park is very large indeed. This massive 10,000 square foot monster provides continuous waves to ride through out the day. Grab a tube and float on top or swim on out and ride the waves in. Either way, you will have a lot of fun bobbing along. For the little ones, this pool is gradually sloped with a Zero-Entry access point across the entire front of the pool. This allows the kids to enjoy the lapping of the waves without getting pounded by them.
Single person Tubes available
Waves every few minutes
Washout Mountain
The large rides might be a little to much for some of the smaller kids in the family so a large section inside the park is devoted to giving them a safe place to play. The Washout Mountain is a very shallow water play zone complete with dumping bucket, smaller Wateer Slides and a climbing treehouse. Add in Water cannons and you have a more mild version of Wet and Wild.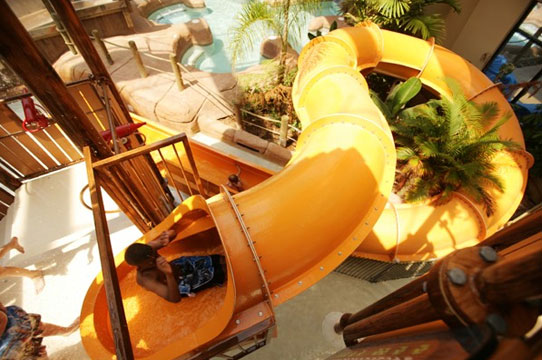 Height Requirement: None Listed

Weight Requirement: None Listed
Kids Enclosed Water Slide
Located in Washout Mountain, the kiddie splash park, you will find a smaller thrill water slide for the younger kids. It is not really for the toddlers because it does have some length to it and it is enclosed for most of the ride. It does twist along and have its own splash area to keep all of the other kids walking around safe.
1 Guests at a time
Enclosed Body Slide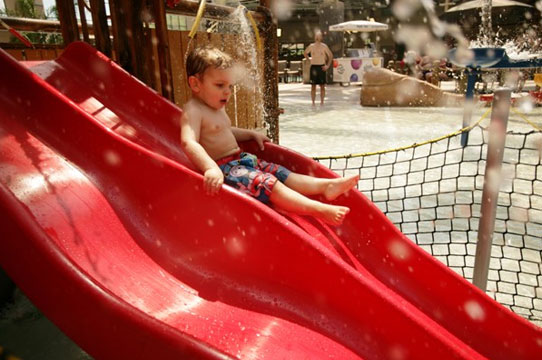 Height Requirement: None Listed

Weight Requirement: None Listed
Toddler Racing Slides
Kids just want to have fun! That is why the Washout Mountain Kiddie slpash park has a Racing Water Slide built just for the youngest kids in the group. The side by side slide allows 2 kids at a time to slide down and splash into a very shallow pool of water at the bottom.
1 Guests per side
Small Drop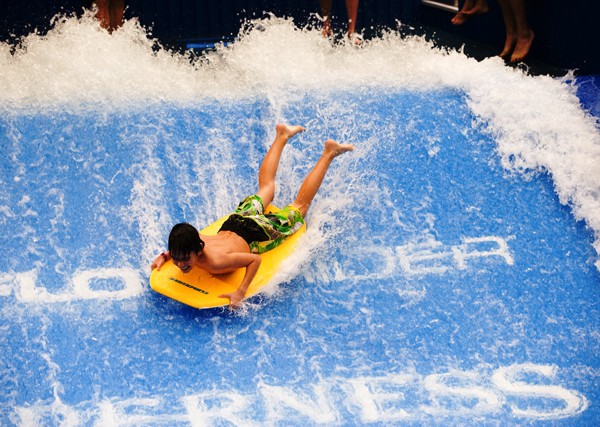 Height Requirement: Minimum of 48″

Weight Requirement: None Listed
Smokies Surf Rider
Well, it isn't quite the same as surfing but it will be an exciting ride non-the-less. Although you are not allowed to ride a stand up surfboard on this ride, you will be able to body surf. Grab your body board and sit above 19,000 gallons of water as it flows underneath you every minute. This is a great way to ride the waves without being near the ocean.
Single person at a time
Continueous flowing water for intense fun