If you have young kids and the weather is nice enough to have the Outside Water Fun Areas open, head on over to the Stone Hill Lodge where the Wilderness at the Smokies Salamander Springs Outdoor Waterpark is located. Even if you are staying at one of the other properties in the Wilderness, you still get to have access to all of the fun that is available at the entire resort. That means you have full access to the Wild Waterdome Indoor Waterpark and the Lake Wilderness Outdoor Waterpark as well.
Space to Spread Out
This Outdoor Waterpark at the Wilderness at the Smokies Lodge is a great area for the whole family but it works even better for the younger kids during the warm months. The entire location is about half the size of Lake Wilderness but it doesn't need to be as big since most of the attractions are geared for the smaller children. That is not to say that there is not plenty of things to do for all ages, it is just great for the younger age group.
Water Fun Outdoors for the Family
From the almost 4 story water play area built for the young kids complete with water canons, a 500 gallon tipping water bucket and plenty of places to climb, to a couple of 200 foot water slides, this is the place to be where all of the family can join in on the fun. There is even a place designed just for the toddlers with small water slides and shallow water out of the way from the rest of the par.
At a Glance
Indoor Pool:

No

Outdoor Pool:

Yes

Heated Pool:

Yes

Lazy River:

No

Water Slide:

Yes

Hot Tub:

Yes

Zero Entry:

Yes

Kiddie Area:

Yes

Wave Pool:

No
Outdoor fun Water Slides
There are 2 medium sized water slides, one is a body slide designed for a single slider at a time and the other is an enclosed tube ride that can support up to 2 riders in a tube at a time. There are also additional slides at the Kids and Toddler play areas but they would not be a good fit for the older kids.
Water Slides in the Great Outdoors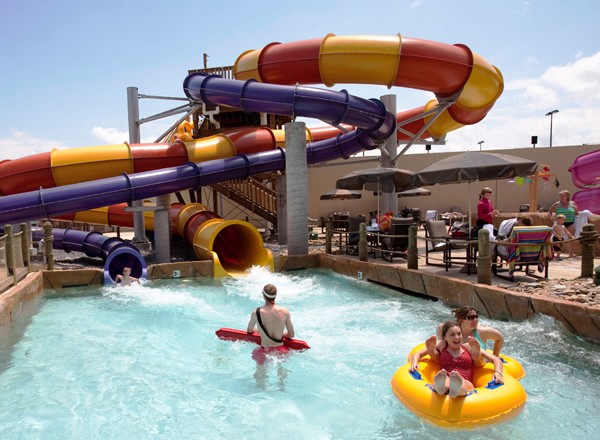 Height Requirement: 42″ Minimum

Weight Requirement: Not Listed
Timber Rattler
Just looking at the different colored sections that make up the stripes of the Rattler can give you the heebie-jeebies but don't let that scare you, This enclosed Water Slide can be fun for the family due to its ability to accommodate Single and Double riders tubes.
1 or 2 Guests per Tube
Slide down a figure 8 style tube
207 feet in length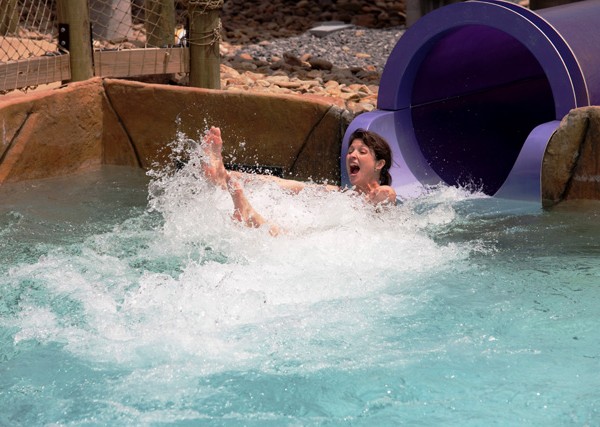 Height Requirement: 42″ Minimum

Weight Requirement: Not Listed
Purple Enclosed Body Side
From the same starting point as the Timber Rattler is another enclosed purple Body Slide. This is a single rider at a time slide where you do not use a tube of any kind. It is about the same length as the rattler but gives a completely different experience.
1 slider – body slide
Figure 8 Enclosed Slide
167 foot long
Kid and Toddler Water Slides
You can look at additional smaller slides at the Kiddie Splash Park tab.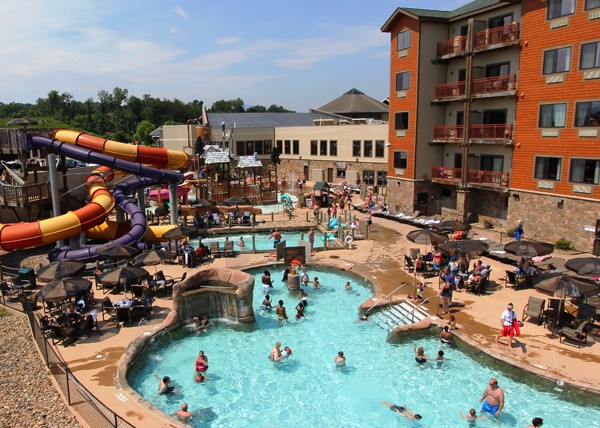 Height Requirement: None Listed

Weight Requirement: None Listed
Catfish Corral Activity Pool
This is a large Swimming Pool where you can just take a leisurely swim, play with your family and friends or just splash around. There are not any other real swimming pools anywhere on the property. There is one section of the pool that is setup with a water basketball goal and another section that has a continuous flow of water through a waterfall.
Swimming Pool
Water Basketball
Waterfall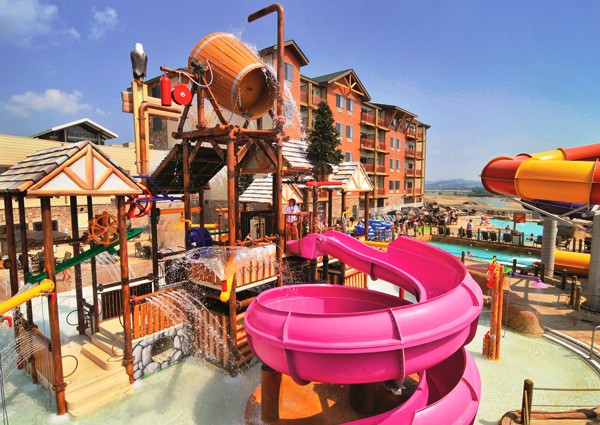 Height Requirement: None Listed

Weight Requirement: None Listed
Lunker's Landing
Kids of all ages will have fun in this Tree-house style of Splashdown fun. Many levels of climbing with dumping water bucket and Water Cannons throughout. There are over 50 interactive zones to keep the kids cool.
Single Twisiting Kids Water Slide
500 Gallon Tipping Water Bucket
4 Stories of climbing fun
Water Sprinklers
Water Cannons
Shallow Water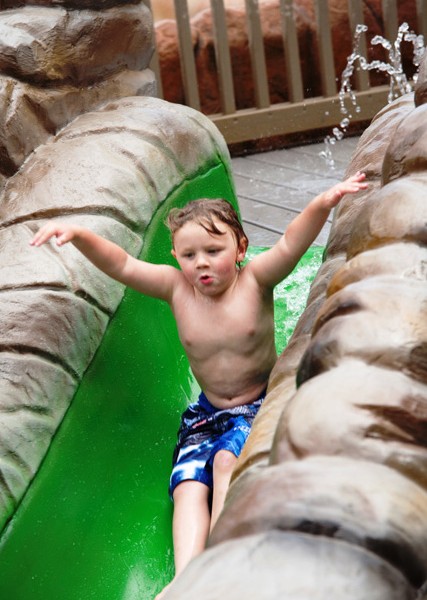 Height Requirement: None Listed

Weight Requirement: None Listed
Minnow Marsh & Wildflower Lagoon
For the tiny tots to play and be in an area that is built special for them, head over to the Minnow Marsh & Wildflower Lagoon where the water is very shallow. A couple of toddler slides will keep the kids busy and there are also a few swings hanging over the water as well. Seating is available around the play area so you can sit back and watch your child play.
2 Toddler Size Water Slides
Swings in the Water Area
Bubbling Fountains
Zero Entry
Shallow Water